Grand Central Talks
April 11, 2013, 12pm, 3:30pm & 6pm
Vanderbilt Hall, Grand Central Terminal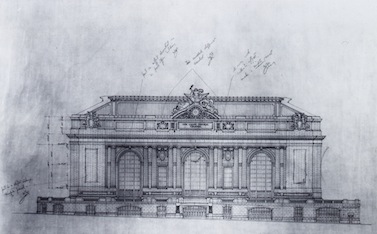 Join us for a series of three fascinating discussions revealing the legends of Grand Central's storied past. No reservations required
12:00pm-1:30pm Pioneers of Railroading
A series of short lectures from noted railroad experts recounting the genesis of the Terminal and the railroad, political and engineering leaders who made it possible. Program to include: introduction by Randall J. Fleischer, Centennial Co-Director and Metro-North Senior Director; "Grand Central Secrets," a 20 minute documentary produced by WABC-TV; Historian and author Carl Zimmerman introduced by Alfred G. Vanderbilt, the thrice-great-grandson of "Commodore" Cornelius Vanderbilt; Professor Kurt Schlichting, author of Grand Central's Engineer: William J. Wilgus and the Planning of Modern Manhattan; and Author John Sprague, the grandson of Frank Sprague who is remembered as "the father of electric traction" introduced by Metro-North retiree Robert Walker.
3:30pm-5:00pm The Battle to Save Grand Central
A panel of architects, community advocates and others recount the extraordinary efforts made in the 1970s to save the Terminal from destruction and the impact the effort had on New York and national historic landmarks. Moderated by Carter Wiseman of the Yale School of Architecture, panelists include: Laurie Beckelman, co-founder of Beckelman + Capalino and former Commissioner, NYC Landmarks Preservation; and Fred Papert, President of the 42nd Street Development Corporation and retired senior partner of the advertising firm, Papert, Koenig Lois.
6:00pm-7:30pm On the Write Track: Authors on Grand Central
What is it about Grand Central that inspires so many books? What makes its stories always worth telling? Join an august panel of authors, moderated by Christopher Gray of the New York Times, that includes: Sam Roberts, author of Grand Central: How a Train Station Transformed America; Anthony W. Robins, author with the Transit Museum of Grand Central Terminal: 100 Years of a New York Landmark; and Tony Hiss, author and lecturer.