Grand Zentral
September 15, 2016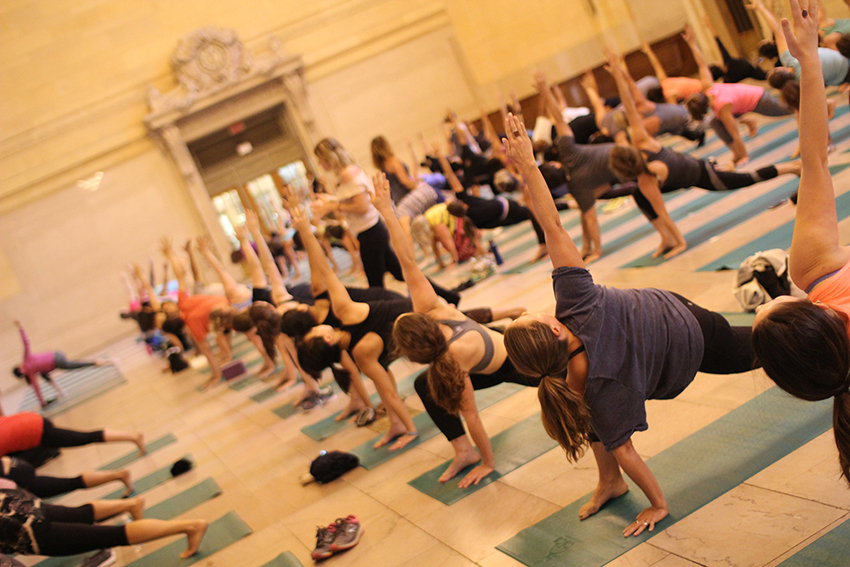 In celebration of National Yoga Month, Grand Central Terminal will again transform into a yoga destination with its "Grand Zentral" event. On September 15th, Vanderbilt Hall will host 6-free yoga classes taught by Pure Yoga instructors and pop-up shops featuring free samples and services.
Yoga Classes are now sold out. Please see the classes below. All classes will still accept waitlist yogis on a first-come, first-served basis. To sign up for the waitlist, download the MindBody App and search "Grand Central Terminal".
7:30AM: Open-Level Vinyasa with Juan Gamboa
9:30AM: Open-Level Vinyasa with Dana Slamp
12:30PM: Open-Level Vinyasa with Kay Kay Clivio
2:00PM: Open-Level Vinyasa with Kat Fowler
4:30PM: Open-Level Vinyasa with Kiley Holiday
6PM: Open-Level Vinyasa with Jimmy Burgio
We also invite you to visit our three booths on the Main Concourse bridge for samples and services.
Complete your Grand Zentral experience at the following pop-up shops:
Aveda: Head to the Aveda booth before your class for that perfect yoga braid to keep it out of your face as you bend and twist. After your class, you're invited back to their booth for a post-yoga massage. Services are offered for a small donation (cash only, please!) and will be available only to those who sign up on the sign-up sheet. No queuing will be allowed.
Cafe Grumpy will offer samples of their cold-brew coffee and have full bottles available for purchase to get you ready to take on your day after your yoga session.
Vita Coco will offer samples of Vita Coco coconut water.
Be sure to follow Grand Central (@GrandCentralNYC) for the latest updates and use #GrandZentral to join the conversation. The #GrandZentral conversation will also take place on Twitter and Instagram with Vita Coco (@VitaCoco) and Pure Yoga (@pureyoganyc).
Yoga Class Registered Participants:
Thank you for participating in this one-of-a-kind yoga event! Read more about day-of details below.
Check-in for your class begins 30 minutes prior to the class start time. In order to ensure a peaceful experience for everyone, please arrive dressed and ready at least 10 minutes before your class. Identification is required at check-in (registration is nontransferable).
Complimentary yoga mats and refreshments will be provided by Vita Coco, along with a swag bag filled with items from the following partners:
Floor space is limited, so we ask you to please leave all large bags at home. Bag and coat check will be provided free of charge.
In addition, by attending a class, participants will have the chance to participate in a raffle and earn a prize at the end of each class. Participants will also automatically be entered for a chance to win a grand prize to be announced at a later date.
6 First Prize winners will receive:
1 Grand Prize winner will receive:
For more information about Pure Yoga, please visit www.pureyoga.com.
Vanderbilt Hall is located at 89 East 42nd Street.