*Sold Out* Orphan Train, The Musical
October 11 & 12, 2013
Vanderbilt Hall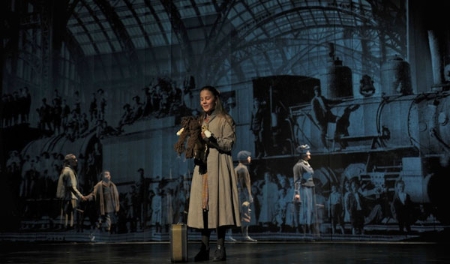 October 11 – 2:45pm & 7:30pm showtimes
October 12 – 11:30am, 2:30pm & 5:30pm showtimes
PLEASE NOTE: THIS EVENT IS NOW SOLD OUT.
In the 1800s, "orphan trains" from New York's Grand Central Terminal sent 250,000 New York children West to live with frontier families.
Orphan Train, The Musical is a tale of young frontier heroes and heroines with the truest grit you've ever seen on a musical stage — the saga of 6 Iowa-bound orphans on the greatest adventure of their lives.
Presented as a special feature entertainment during Grand Central's 2013 Centennial Celebration, Orphan Train is a riveting family show that stars a crop of talented young actors from Rosie O'Donnell's Theatre Kids, former Beauty and the Beast lead, Steve Blanchard, and DeWitt Fleming, Jr. of Riverdance and Cirque du Soleil.
Emmy-winner and 5-time Tony nominee Patricia Birch directs and choreographs.
The musical features a riveting score by Emmy-winner Doug Katsaros, lyrics by Michael Barry Greer, book by L.E. McCullough.
PLEASE NOTE: THIS EVENT IS NOW SOLD OUT.