Taste of the Dining Concourse
February 27 – March 3, 2017
11AM – 12PM and 4 – 5PM Daily
Lower Level Dining Concourse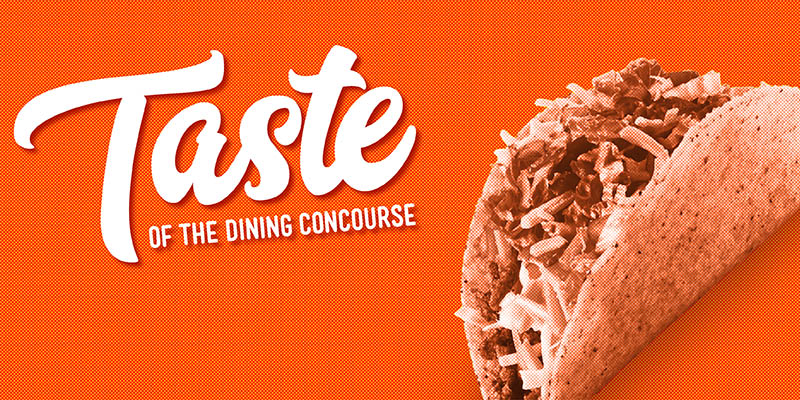 Grand Central's "Taste of the Dining Concourse" will feature free tastings from 11AM to 12PM and 4PM to 5PM daily. Get a taste for the international flavor offered at Grand Central Terminal, with Prova Pizzabar, Shake Shack, and Shiro of Japan, among others who will serve free samples throughout the Dining Concourse. Visit each restaurant to taste their samples in the Lower Level Dining Concourse.
Check out our full list of samples below:
Event details and samples may change. Samples only available while supplies last. Not all samples listed will be available each day. Check this page for the most up-to-date information on the event.
Café Spice
Papdi Chaat (crispy wheat crisps layered with potato, chutney, yogurt, chickpeas and spices)
Central Market New York
Monday: Marinated Flank Steak
Tuesday: Stuffed pork loin
Wednesday: Roasted Turkey and Corned Beef
Thursday: Pork Belly
Friday: Brisket and Pastrami
Eata Pita
Falafel balls (AM sessions only)
Frankies Dogs on the Go
Hale & Hearty Soups
Wild mushroom, lemongrass, and ginger simmer over rice vermicelli noodles
Chicken curry with apple, mint over coconut basmati rice
Jacques Torres Ice Cream
Jacques Torres Ice Cream will be sampling items from their savory menu!
La Chula
Mini Taco Pastor
Mini Taco Pollo
Magnolia Bakery
Prova Pizzabar
Donatella Arpaia's famous, award-winning meatballs
Pizza margarita
Shake Shack
Brownie Batter Hot Chocolate
Shiro of Japan
Chirashi and Sake samples
Wok Chi (Coming Soon!)
Zaro's Family Bakery
Hot dogs on a custom bun
Pretzels